The Church teaches that everyone is created and loved by God and called to share in his own blessed life. God desires each and every person to seek Him, to know Him, and to love Him with all their being. We believe that this spiritual journey is for everyone, regardless of where they are at in their spiritual life, their struggles, successes or failures. We believe when Christ founded His Church on Peter the Rock, He desired for it to be a home for all people -a community that welcomes and accompanies every person along the path of life. We ask that as members of All Saints Parish, you walk with us on that journey of faith and be open to what God is doing in your life.
To be a member of this Catholic parish is to enter into Holy Communion with those who are on that same spiritual journey, and to help us invite others to join us. Like the Magi following the Christmas star at Epiphany, together, we pursue the Light of Jesus Christ, in whom our brokenness is healed, our desire for love is fulfilled, and life's purpose is found.
We are happy and blessed to have you complete this registration information and become formal members of All Saints Catholic Church, where together, we can grow in the Spirit.
God Bless,
Father David Greenfield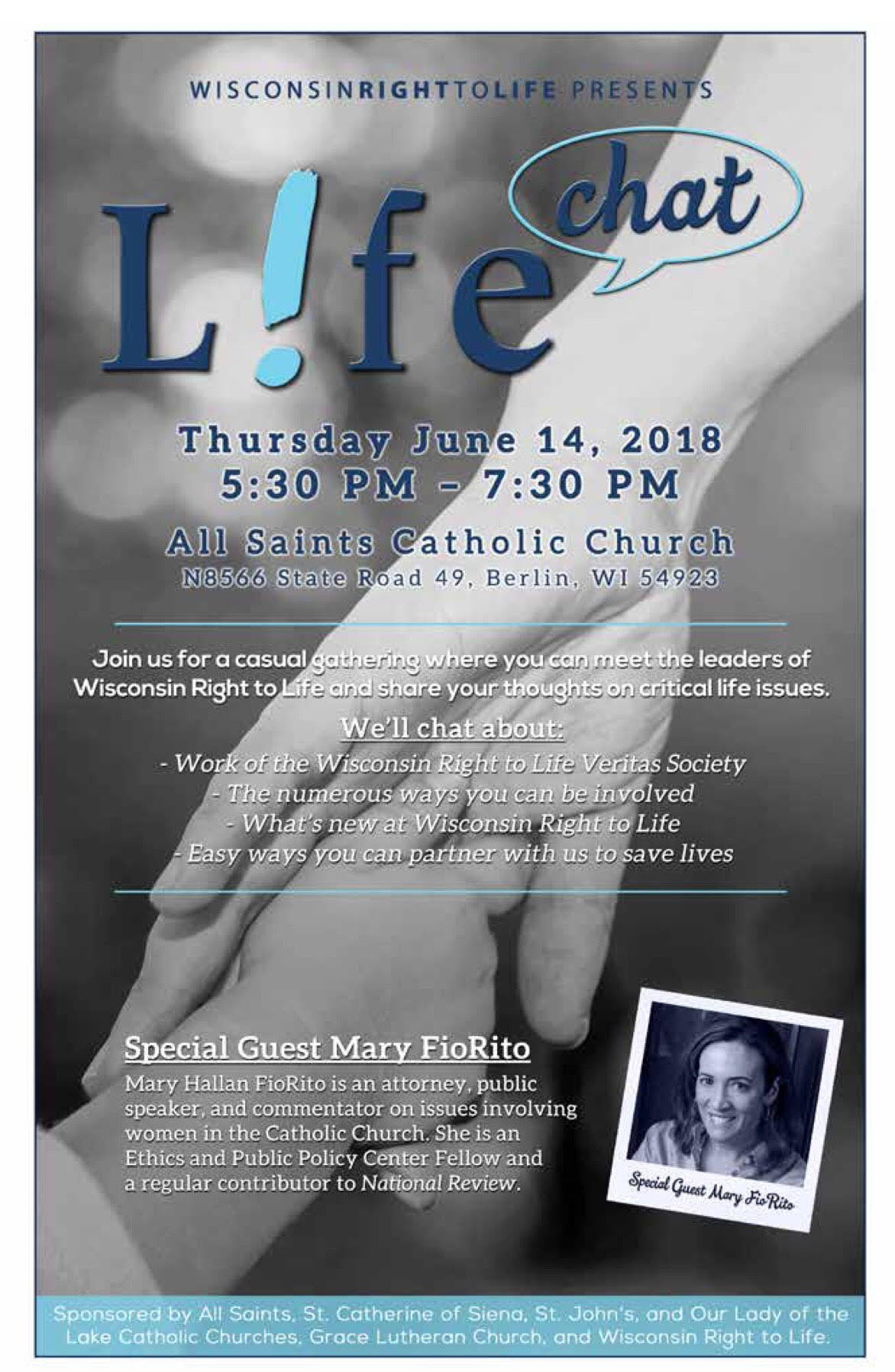 Here's a few of many exciting events we have coming up in our Parish.
Click here for the entire schedule of Parish/School Calendar of Events Page.
On June 14th, All Saints along with St. Catherine of Siena, St. John's, and Our Lady of the Lake Catholic Churches, and Grace Lutheran Church will be sponsoring a Life Chat from 5:30 PM – 7:30 PM at All Saints Catholic Social Hall.
We encourage the youth of our parish (Grades 6-12th) to attend because it is important to have them listen in on these critical issues and learn how they can be involved. Our guest speaker, Mary FioRito, is a well-known public speaker and commentator on issues involving women in the Catholic church. She is an attorney as well as an Ethics and Public Policy Center Fellow and contributor to the National Review.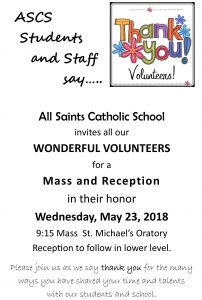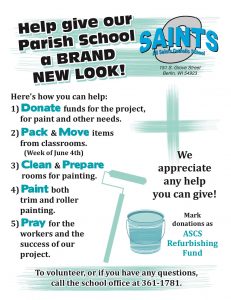 Our project will continue throughout the summer, so it is not too late to volunteer or donate to the ASCS Refurbishing Fund.  Please contact the school office @ 361-1781.

Registration is NOW Open for VBS this summer at All Saints! Get More details about this years program All Aboard! Under the Religious Education Tab — Then select All Aboard! Vacation Bible School 2018. The Registration link is below:
VBS 2018 Registration Form:
Mark your Calendar: Monday July 9th through July 13th
8:00 AM – 11:00 AM
All Saints Catholic Church
 LOVE BEGINS HERE students coming this summer. 
Once again our parish will be hosting high school missionaries from our diocese to do various jobs around the community. If you need any work done at your home  – yardwork, cleaning, painting, window washing, cleaning out the basement. Please contact our Parish office 920-361-5252 and ask to be placed on the list for these students to come during the week of July 23-26th.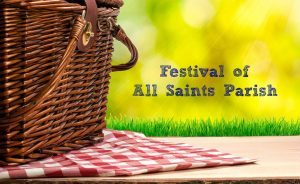 Mark your calendar for June 24th – It's Our annual Parish Festival. It's time to start putting big Ticket Raffle Items Together. Please call Julie at 920-361-2100 or 361-2562 with any cash, gift certificates, or item donations. We plan to get raffle tickets out to all Parishioners by Memorial Day weekend.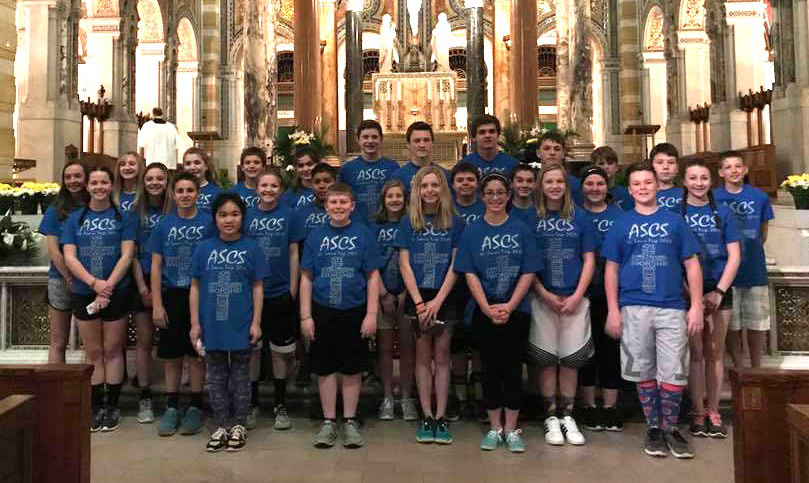 All Saints Berlin Catholic School is located in Berlin, WI within the Catholic Diocese of Madison. St. Micheal's Oratory is the home to our K-8th grade students. The former rectory of St Michael's houses our Preschool for children ages three, four, and five.