Monday, December 24th Christmas Eve Mass and Children's Liturgy 5:30 PM
Christmas Eve Mass and Choir Concert Mass at 9:00 PM (Concert begins at 8:30 PM)
Tuesday, December 25th Christmas Morning Mass 10:00 AM
Wednesday, December 26th NO MASS; No Private confessions
Holy Grounds Advent Social
December 16th, 2018
All Saints Social Hall immediately following the 10:00 AM Mass through 1:00 P.M.
Take a Joy Break and enjoy…..Fellowship, Muffins & Coffee & Fruit. Oh My! and Coffee Bar with Specialty and Traditional Espresso Drinks, Regular Coffee, and Hot Chocolate. (All drinks made and served by experienced Baristas from the Roast Coffee Company)
with Surprise Musical Entertainment….No charge to attend. Come Join us!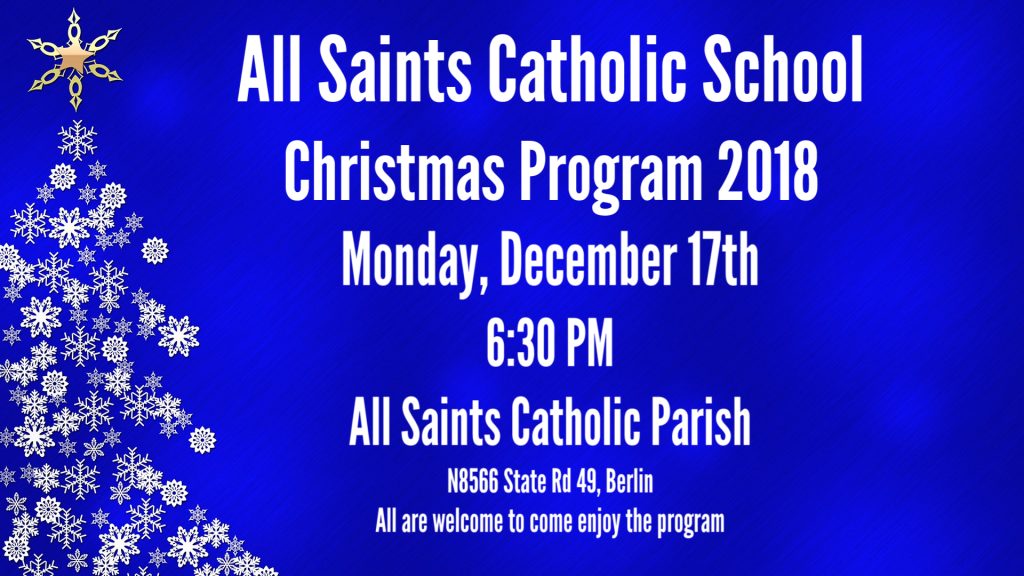 Men's Retreat – January 17th-20th, 2019 at the Jesuit Retreat House in Oshkosh, WI. Call Pat Garczynzki at 920-361-7219 to make your reservation. Limited Space available so call to make your reservation soon.