We now offer Online Giving. To set up your Online Giving account or manage it, Click on the Icon below: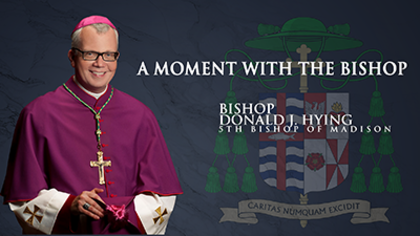 A Moment with the Bishop – Video Series
Click the link below to view or subscribe to the
Moment with the Bishop Daily Series:

Registration is NOW Open for the 2019-2020 School Year.
You can easily register your child(ren) online by clicking on the link below or picking up a form in our gathering space at church, fill out the form and return it to the church office with religious education fees. Forms and fees are due when classes begin Wednesday, September 11th.
2019-2020 Fees
Grades K – 8
$50 per child (Parishioner)
$100 per child (non-parishioner)
9th-10th Grade Confirmation Students
$100 per student
Kindergarten – 5th grade will meet from 3:30pm – 5:00PM
6th – 8th Grade will meet 6:00 – 7:30PM
For more information – please see the Religious Education Tab above at the top of the website or call our parish office at 920-361-5252. Office Hours are: Tuesday – Friday 8:00AM – 4:00PM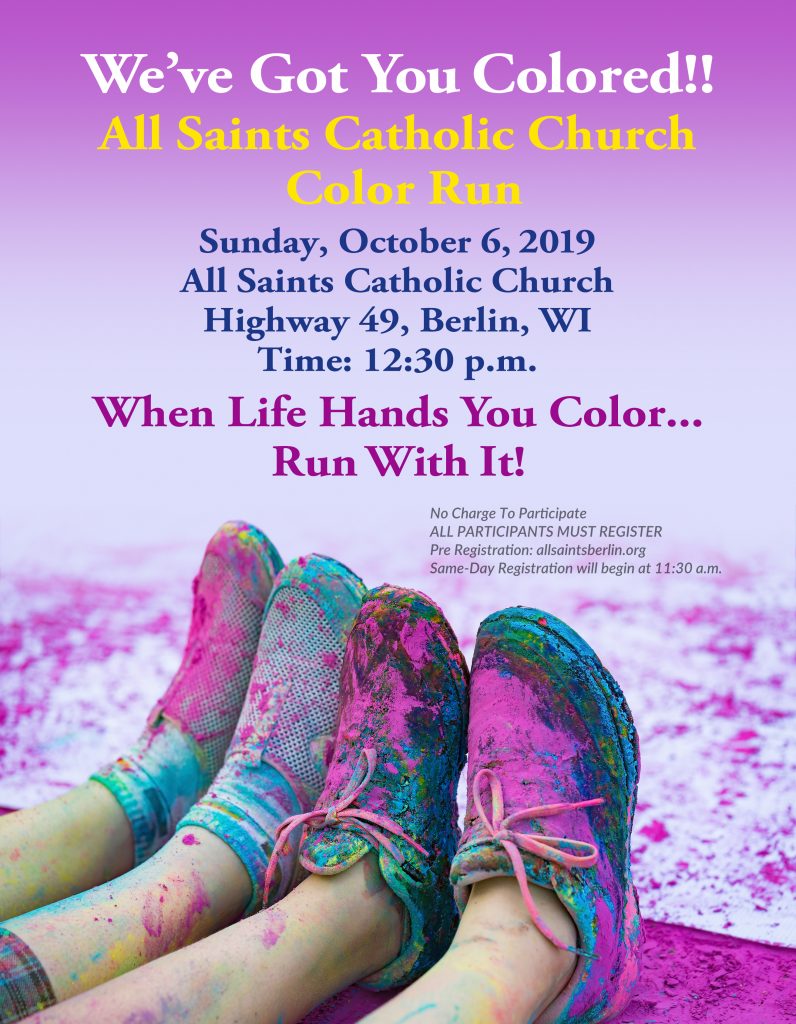 Join us for the Color Run – Sunday, October 6th at All Saints Catholic Parish. Check in time will begin at 11:30am and the run will begin promptly at 12:30PM. Our Color Run is an untimed event and has no winners or prizes. It emphasizes fun over competition. It is free and open to families, adults and children. They are free to run, jog, slog (slow jog) or walk along the one mile course.
The Color Run event is FREE, but you must Register for the event:
Please fill out one form for each child participating:
For the safety of our participants and animal friends, we will not allow animals to take part in our run. Signs will be posted, asking runners to keep to the left on the "track". We recommend that you wear the brightest white to show off ALL the colors… but don't let that discourage you from going crazy with the brightest accessories you can find. Be adventurous! Create themes with your friends and/or families with crazy socks, sunglasses or tutus! The more white you wear at the beginning, the more color you'll see on your clothes at the end. Deck yourself out in bright white, wear your sunglasses and bandana. Run through the awesome clouds of color. The run will begin with a color toss, where color packets will be thrown into the air by the participants. Two color blasters will also be used during this portion. The color toss will provide great photo ops for observers who want photos. After the color toss, participants will proceed along the designated one mile course to the finish line. They will pass four color stations set up along the route. Each station is associated with a different color. Using squeeze bottles, volunteers will cover the participants with brightly colored powder as they pass each station. The final station in our run will be a glitter station. Join Us! We've Got You Colored!! 
COLOR RUN QUESTIONS AND ANSWERS Is the Color Dust environmental friendly? The Color Dust is environmental friendly. No ecological hazards are associated with this product. It can be easily washed or blown from event areas. Is the Color Dust safe? The Color Dust we are using is safe, non-toxic and completely washable! The powder is a non-toxic, non-rash-inducing colored corn starch. It was tested for health and flammability. Will the Color Dust wash out of my hair? The color dust dye is made of colored cornstarch and is designed to be 100% washable. If you have light-colored hair, or if it's expected to be rainy or a particularly humid day when you participate in a color run event, we suggest adding some leave-in conditioner. You can wear a bandana. Will the Color Dust wash out of my clothes? The Dye we use is completely safe and will wash out of your clothes, but we don't do your laundry so results may vary depending on detergent, temperature, etc. For this reason we recommend you wear stuff that you don't mind getting a little colorful. COLOR RUN TIPS Sunglasses If you have sensitive eyes wear sunglasses to keep the color out of your eyes. If you plan on getting doused with powder. Clean Up Bring garbage bags or towels to cover your car seats for the trip home. Bring babywipes to clean up. There is a good chance that you might not want to ride home covered head to toe in colored powder. You may want to bring extra clothes. Cell Phones Bring a small sandwich bag or waterproof case if you plan on bringing your phone with you during the run. Otherwise, you might want to bribe someone to take pictures for you. We will provide sandwich bags for cell phones. We will not be responsible for any damage to cell phones. If you have questions please contact Carol Fehring Phone: 920.229.4590 Email: cmazzei1944@yahoo.com