All Saints Catholic Church will LIVE stream the Mass on our Facebook Page
Sunday at 10:00 AM
replay of August 9th, 2020 Holy Mass Click here to view
                  All Saints Church will be open Tues – Fri 8:00 AM – 4:00 PM for private prayer.
LIVE STREAM MASS SCHEDULE
All Saints Catholic Parish:

Father David and Deacon Jim will LIVE stream Mass on Sunday 10:00 AM from our All Saints Catholic Church Facebook Page: Click to watch LIVE
Click on the following link for a download/printable copy of the readings for daily Mass.  This free resource is provided by The Word Among Us.  You can find all their free resources HERE
Our diocese website has some great resources for deepening your faith and worshiping at home during this time of social distancing:
In addition:
WISC-TV / Channel3000 Sunday at 6:00 AM, and replayed on TVW and Direct TV 14 Sunday at 7:00 AM
Sunday 10:30 Mass (Live) from St. Peter, in Ashton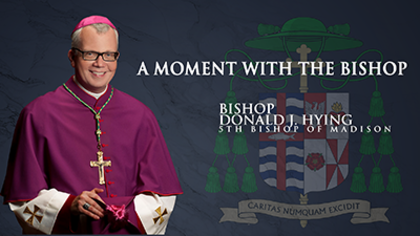 A Moment with the Bishop – Video Series
Click the link below to view or subscribe to the
Moment with the Bishop Daily Series:

Friends:
We are living in times where most of us probably feel we could use a little miracle.  I thought reading about one may help lift our spirits.  We should note that we speak of "lifting our spirits" at every Mass when the priest says:  "Lift up your hearts" – and the people respond, "We lift them up to the Lord!"  "Lifting up our hearts" is another way of saying, "We lift our problems, anxieties, fears, hurts (the heaviness of our hearts) to the Lord, and we give them to Him."  May this article help lift up your heart.
(Thanks to Sr. Michaeleen for sharing it.)
All Saints Catholic Parish and School; Berlin, WI 
Click the link below to read the article: