All Saints Catholic Church will LIVE stream the Mass on our Facebook Page
every Sunday at 10:00 AM
replay of November 29, 2020 Holy Mass Click here to view
                  All Saints Church will be open this week Tues – Wed. 8:00 AM – 4:00 PM for private prayer.
Thanksgiving Day Mass is at 8:00 AM on Thursday, November 26th. 
Parish Office will be Closed Thanksgiving Day and Friday, November 27th.

LIVE STREAM MASS SCHEDULE
All Saints Catholic Parish:

Father David and Deacon Jim will LIVE stream Mass on Sunday 10:00 AM from our All Saints Catholic Church Facebook Page: Click to watch LIVE
Click on the following link for a download/printable copy of the readings for daily Mass.  This free resource is provided by The Word Among Us.  You can find all their free resources HERE
Our diocese website has some great resources for deepening your faith and worshiping at home during this time of social distancing:
In addition:
WISC-TV / Channel3000 Sunday at 6:00 AM, and replayed on TVW and Direct TV 14 Sunday at 7:00 AM
Sunday 10:30 Mass (Live) from St. Peter, in Ashton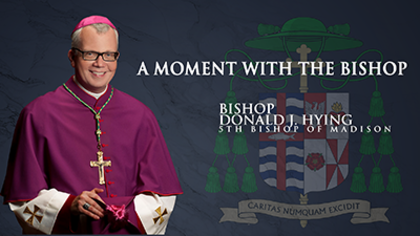 A Moment with the Bishop – Video Series
Click the link below to view or subscribe to the
Moment with the Bishop Daily Series:

Here is some good news based on an article found on www.realclearscience.com, and signed by Thomas W. McGovern, Deacon Timothy Flanigan & Paul Cieslak, who are physician members of the Thomistic Institute Working Group on Infectious Disease Protocols for Sacraments & Pastoral Care. An excerpt is included below, but the whole article is worth reading.
You can access the full article by clicking on the image above or here: Evidence-Based Guidelines to Celebrate Holy Mass Safely Are Working
 "Catholic churches across the country have been open for up to four months since shelter-in-place orders were lifted. With approximately 17,000 parishes in America typically holding three or more weekend Masses – and a greater number of daily Masses – for the last 14 or more weeks – over one million public Masses have been celebrated following guidelines to prevent the spread of the virus: in sum, follow the three W's – watch your distance, wear your mask, and wash your hands. The Good News: for Catholic churches following these guidelines, no outbreaks of COVID-19 have been linked to church attendance, even though we have examples – some described below – of asymptomatic, unknowingly infected individuals attending mass and other parish functions. Their attendance could have led to an outbreak if appropriate precautions were not followed, yet in each case, we found no evidence of viral transmission. In late July, the Thomistic Institute (TI) released updated guidelines for celebration of Mass during the COVID-19 pandemic. No evidence has emerged to suggest that distribution of Holy Communion in accordance with TI Guidelines has led to COVID transmission.  The few churches that have been reported as sources of COVID-19 outbreaks did not follow social distancing or require masks; they also promoted congregational singing."