What's Happening – Upcoming Events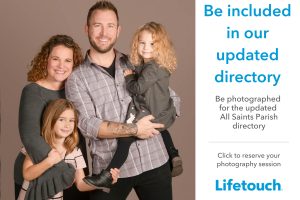 It's time to update our parish directory! Be part of the Directory by having your picture taken as a family or individual. Lifetouch will be coming to All Saints on Tuesday, August 18th from 2:00 – 9:00 PM. We especiallly invite new parishioners, those whose families have changed with an additional family member, and any parishioners who have never had their picture taken before to participate.
Signing up is Easy! Go to the picture below and click on it ~ it will take you directly to the link: https://booknow-lifetouch.appointment-plus.com/b82jcglg/
• Call the church office at 361-5252
• Go directly to this link: https://booknowlifetouch.appointment-plus.com/b82jcqlg/
• Call Lifetouch at 866-756-0281, Mon-Fri, 8am-4pm
New photography safety protocols include:
SAFETY TRAINING
Lifetouch employees are required to complete comprehensive safety and cleaning protocol training.
PRE-SESSION HEALTH CHECK
Photographers are provided a thermometer for their daily
self-health assessment before reporting to a photography
event.
NO-CONTACT POSING & SOCIAL DISTANCING
Photographers are required to maintain six feet between
themselves and subjects while being photographed.
ENHANCED CLEANING
Photographers are provided sanitizing wipes and spray to
clean camera stations and equipment.
MASKS
Photographers are required to wear masks during the entire
photography session.
**************************************************************
Even if you do not wish to have your picture taken at this
time, please take a moment to fill out the brief update form
on our website or Facebook page, or call the parish office.
This will help us to keep our parish records up to date and
update our parish directory according to your preferences.
If we do not hear from you, our default will be to include the
mailing address, primary phone number and email we
currently have on file. THANK YOU!
---