What's Happening – Upcoming Events
It's time to prepare for the Harvest Dinner… on the go! The Harvest Ham Dinner To Go 2020 will be on Sunday,
October 18th from 11AM – 1PM (or until sold out) Ham, scalloped potatoes, California blend (cauliflower, broccoli & carrots), dinner roll and marble cake all for $10.
Make plans to participate in our scrumptious Ham Dinner, whether you come for a curbside
pick-up or call ahead for delivery. Tickets are $10. There will only be 500 tickets sold, so get yours
early! Tickets are available at: The Ladybug, Farmers & Merchants Bank, Fortifi Bank, the
Parish Office, and will be sold after weekend Masses beginning September 26th. For delivery,
call Julie Boeck at 920-290-2703.
We loved the great desserts that were donated for the Chicken Dinner, but none will be needed for
this dinner as we are attempting to keep things simple.
Raffle Baskets Needed: Our baskets for the chicken dinner were so much fun, we decided to
try it again with the Harvest Dinner! We will again do a combination of in-person and online
baskets. In-Person baskets will be available after weekend Masses beginning in October, and
Online bidding will go from October 12-16th. We are once again asking for about 20 nice (new
items only, please) baskets to be donated. We will need baskets turned in to the church office by
October 2nd.
Find a friend or some family members, think of a theme, and have some fun!
Gift cards are always a big hit in baskets, and you can purchase a great variety of cards through our
SCRIP program! Also remember, we are not allowed to have any alcohol in our baskets.
Please contact Kathy Beier at 920-810-8164 or Linda Seaman at 920-290-3384 if you are able to
donate a basket or have questions. Thank you!
Volunteers Needed: We had a great crew for the Curbside Chicken Dinner and we're sure we'll
have another great crew to help with the Harvest Dinner as well. We are in need of volunteers who can help organize/package the meals, run meals out to cars, direct traffic, and clean up afterwards.
Attention Confirmation Students: this is a great opportunity to start earning service
hours! Signing up is easy! Here is a link to a video tutorial explaining how the sign-up process works:
https://www.loom.com/share/0596146622d0469a9a205c85cb730b7d
And here is the link to the sign up sheet to volunteer:
https://www.signupgenius.com/go/60b094aaba823a1f49-harvest
If you have any questions, please contact Amy Slonecker: 414-416-1538 or amyslonecker@yahoo.com
Thank you in advance for your continued support and God bless you all this fall!
*************************************************************************************************
ASCS Parent Network is hosting a fundraiser for Poinsettas and Wreaths ~ Order yours by Monday, October 12, 2020 through the link https://ascs-parent-network.square.site/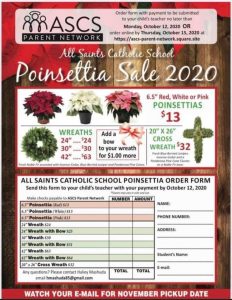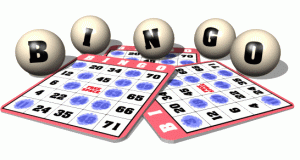 In-person Bingo will begin again this Sunday, November 8th.
Doors open at 5:00 PM for food and refreshments and Bingo begins at 6:30. Masks are a must and Social distancing will be in place.
---
[/vc_column_text][/vc_column][/vc_row]