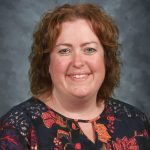 Education: Marian University- Masters in Educational Leadership
Why do you like working in education? I enjoy being able to have a positive impact on todays youth, while creating life long relationships with each student influenced by our faith.
What do you like about All Saints? All saints is a family, faith based environment  which continues to grow in our community. Our staff continues to strive for excellence in academics meanwhile keeping correlations with the families of ASCS. Together we all work towards becoming children God.
Learn about Mrs. Dahms:  "She is a highly motivated individual who is known for spending many hours in school or at the parish putting her time and hard work for the good of the Lord. Jana enjoys spending time with her 4 children and her husband being outside or at the  various activities her kids participate in. Somehow managing all of her time extremely well she able to find time sleep at night! What a busy lady!" -Anonymous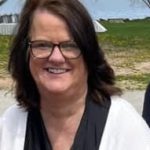 Bachelor's and Master's Degree from University of Wisconsin – Stevens Point 
Why do you like working in education?
I love being a part of a child's growth process.  Watching students reach their full potential is incredibly rewarding.  I also enjoy helping students become not only academically successful people, but also kind, faithful, and compassionate people.  
What do you like about All Saints?
Being a graduate of the Catholic school myself, a piece of my heart has always belonged to All Saints.  Our three children attended this school and our family witnessed first-hand how classmates become family and how God works in the students' lives each day.  
Learn about Mrs. Wenig
My husband Marty and I have three adult children.  We enjoy spending time with our friends and family.  I love to travel, listen to live music, and cheer on Wisconsin sports teams.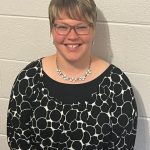 Administrative Assistant- Ms. Crystal Sales csales@allsaintsberlin.org
Why do I like working in Education?
I have wanted to be in Education since I was in 2nd grade, and I have not changed my mind since then. I have always enjoyed school myself, and I love learning new things. More importantly, I LOVE working with kids! Kids have always put a huge smile on my face, and have been my true passion! Kids help to make each day different. I LOVE watching kids succeed and grow! I LOVE to help make a difference in the lives of others. In fact one of my favorite sayings is, "Love them, teach them, watch them grow!"
What do you like about All Saints?
The moment I joined All Saints Parish, I felt as though everyone was family. Everyone has been so welcoming, supportive, and very helpful to me! Not long after I joined All Saints, I was asked if I would teach Religious Education class, and of course I said "Yes!!" The Catholic faith has always been my top priority from little on. Being able to share God's love and my faith with others at All Saints and the community has been wonderful! Let me just say, Father John has also been so positive, and has been a huge role model to me!
I grew up in Green Lake on a small farm with my parents and sister. I graduated from Green Lake High School in 2012. I continued my education at Marian University in Fond Du Lac where I earned my Bachelor's Degree in Education with a Religious Education minor in 2016. I have worked in education since I graduated college in 2016. I have worked with children of all abilities. In my free time, I enjoy spending time with my family and friends, doing arts and crafts, completing projects around my house, shopping, and volunteering. I am beyond excited to join the All Saints Catholic School team!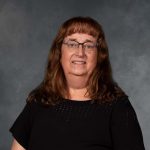 Education: UW-Oshkosh
Why do you like working in education? Getting to know and work with my students. Teaching, seeing students light up with each little success.
What do you like about All Saints? Teaching with God and Jesus at the center of everything all day, everyday. The family atmosphere, small school environment and caring, friendly staff.
Learn about Mrs. Trochinski: She enjoys walking with her dog, spending time with her family. Her hobbies and interests include gardening and canning.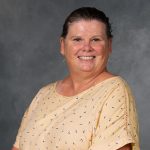 Education: UW-Eau Claire 
Why do you like working in education? I love seeing students get excited about learning. There is nothing better than the enthusiasm and happiness of finding out something new and seeing the joy of success in a student's face.
What do you like about All Saints? I have the ability to share my faith and love of God everyday. The students know they are children of God and we are all loved. This makes a great learning environment. 
Learn about Mrs. Ahasay: She is an avid reader, she loves to travel and music makes her happy. If she can do all three with a group of friends, or family, life is good! She also believes being a grandma is one of life's greatest blessings!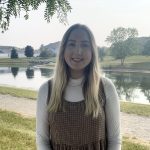 Grade Three: Ashley Stellmacher
Education: Bachelor of Science in Early Childhood Education with Elementary Education specialization from South Dakota State University
Why do you like working in education? It is great to see students grow and enjoy what they are learning. I believe that creating positive relationships with students has a big impact and gives me the opportunity to include their interests in their learning. I have always enjoyed being in a classroom that feels like a family and a great part of being an educator is being someone who can inspire students to reach their goals.
Learn About Miss Stellmacher: I enjoy traveling, hiking, and fishing in my free time. I have always loved music and like to play the piano when I have the chance to!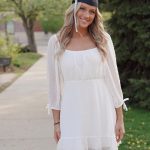 4th grade teacher: Miss Paige Krause  
Education: Bachelor's of Science in Elementary Education from the University of Wisconsin Oshkosh
Why do you like working in education? I have always known that I wanted to change the lives of children and make an impact on the future. It will be a privilege to not only grow as learners but to grow in faith as well.
Learn About Miss Krause: I graduated from All Saints Catholic School in 2014 and am excited to be back as an educator! 
More about my personal life: My favorite hobby is to enjoy the outdoors- from fishing to hiking! My fiancé also loves spending time outdoors, so you will find us out on the boat! 
I am SO excited to be a part of All Saints and to build relationships with students and families!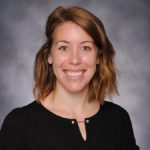 5th grade teacher: Mrs. Lindsey Voight 
Education: Bachelor's of Science in Elementary Education with a minor in Spanish from Edgewood College .
Why do you like working in education? As a Catholic educator, I enjoy the privilege of witnessing students not only grow as learners, but also as God's children. Striving to create genuine relationships throughout the year is something that impacts the learning and teaching experience. It's God working through us all that makes teaching at a Catholic school so rewarding.
Learn About Mrs. Voight: As a 2006 graduate of All Saints Catholic School, I'm happy to say I am home again. Married in October of 2022, my husband and I enjoy playing volleyball year round. We enjoy taking spontaneous road trips with my stepson along with playing Jenga, Uno and Cribbage. It is an honor to grow our roots with All Saints.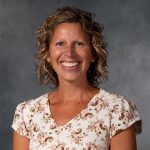 Education: UW-Lacrosse and Marian University
Why do you like working in education? It is never a dull day. I love helping and interacting with the students and staff. We learn from each other!
What do you like about All Saints? I love that it feels like we are part of one big family. Everyone, young and old know and help each other. I especially love how after taking seven years off, it feels like I never left. It's also a blessing to be at the same school as my kids. 
Learn about Mrs. Carriveau: She likes to go on walks, especially in nature. She loves spending time with her family and friends. She also enjoys gardening and reading too! Although some days have struggles, there is no place she would rather work because the support and knowledge is amazing!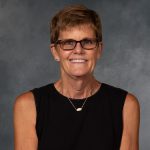 Education: UW-Oshkosh
Why do you like working in education? I have always enjoyed teaching middle school youth, especially teaching math. 
What do you like about All Saints? I have always enjoyed the support of our parents. 
Learn about Mrs. Emmrich: Her hobbies include gardening, flowers, cooking and baking. She looks forward to spending any free time with her children and husband.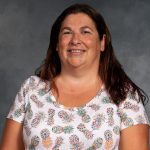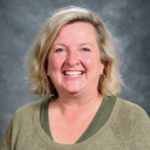 Middle School Language Arts/Reading Specialist  Mrs. Jill Jensen jjensen@allsaintsberlin.org  Ext. 208
Education: Beloit College & UW-Oshkosh 
Why do you like working in education? I love learning with my students. It's a joy to read, write, listen, laugh, cook and pray with these students. My favorite thing is that "ah-ha" moment when a student realizes that they can do it!
What do you like about All Saints? We are blessed because God can be a part of every class and any lesson. It's wonderful to talk about Him and try to live out His teachings. When we are all together at all school mass or when I see students at weekend mass I am truly happy. 
Learn about Mrs. Jensen: She loves to travel and see new places. Taking their bikes they like to pack up the camper and head out. Trying new foods, seeing different parts of the state and visiting orchards are all on top of her family's list of favorite things to do. Mrs. "J" as known to many is thankful for the Parish and school staff families who work so hard to make the school a special place to learn and grow in God's love.