Adult Bible Study Classes this fall! We will be offering the Timeline on a new, shorter schedule. Instead of 23 weeks, we will offer a condensed version and complete the whole series in 12 weeks.
The Bible Timeline–The Story of Salvation is a popular and comprehensive video study series which takes participants on a journey through the Bible from the book of Genesis to the book of Revelation. Popular Catholic evangelist Jeff Cavins uses a unique system to explain how the major people, places and events of Salvation History come together to reveal the truth of the Christian faith. It can help anyone make sense of Scripture and experience the life-changing power of God's Word. This is a great opportunity for Catholic adults and young adults with little or no Bible background.
Starting October 11th, Classes will be held at two different times on Wednesdays, so you can choose the time that works best for you. Class times are 2:00-3:00 pm or 6:30-7:30pm. We encourage you to join us and bring a friend. You will love it. To register now, click the bible study registration form. For more information, please contact Jana Dahms @ 920-361-5252
Where will the Class be held? 
Wednesday afternoons from 2:00-3:00 pm in the Meeting room at All Saints Parish.
Wednesday Evenings from 6:30-7:30 in the library at All Saints Parish.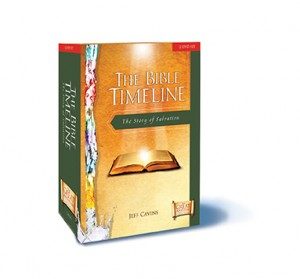 More About The Bible Timeline
The Bible Timeline–The Story of Salvation is a fascinating study which takes participants on a journey through the entire Bible. The weekly sessions explore each period of salvation history without overlooking the amazing story which is woven throughout all of Scripture. Using a unique color-coded system, you will learn the major people, places, and events of the Bible and see how they all come together to reveal the remarkable truth of the Christian faith.
As you explore salvation history from its beginning in Genesis through the coming of Christ and the establishment of the Church, you will see how God's loving plan for humanity has gradually unfolded, resulting in a greater love for God and a deeper appreciation for your faith.
The Bible Timeline was developed by Jeff Cavins, Dr. Tim Gray and Sarah Christmyer and has been granted the Imprimatur by Justin Cardinal Rigali, Archbishop of Philadelphia.
This newly revised edition of The Bible Timeline was re-filmed in high definition and includes new theological insights, animated maps of ancient Biblical journeys, definitions and spellings of unfamiliar words, classic art and contemporary images of well-known ancient Biblical events, as well as on-screen citations from Scripture and the Catechism of the Catholic Church.
FOR MEN
Join the Men in our parish for That Man is You! It is a program that addresses the pressures and temptations that men face in our modern culture, especially those relating to their roles as husbands and fathers. The program harmonizes current social and medical science with the teachings of the Church and the wisdom of the saints to develop the vision of man fully alive!
Check it out yourself:
https://www.youtube.com/watch?v=aFwzkKb2SB4
"This Man is You does a tremendous job of setting…..men on fire with courage and zeal that come from being sons of GOD!"
Our second year of sessions have already begun! However, It's never too late to start. Join us at any of the sessions, even if you may not be able to make them all.
Every Wednesday morning session starts at 5:30 am Sharp in the All Saints Social Hall, with a light breakfast. A short video presentation will starting at 6:00 am with brief discussions following. Sessions end promptly at 7:00 am so that you are on your way to start the day.
Independent research by a Faith Advisor from the Gallup Poll reveals That Man is You! to be one of the most life-transforming programs ever studied. True to its stated goals, this transformation is most profoundly seen in marriage and family life, men's issues including pornography and balancing work demands, and a greater participation in parish life.