What's Happening – Upcoming News and Events
BINGO IS BACK!

Beginning September 9th, please join us for fellowship, food, and fun on most Sunday evenings at 6:30 in the social hall. Check out the calendar below for exact dates.
THAT MAN IS YOU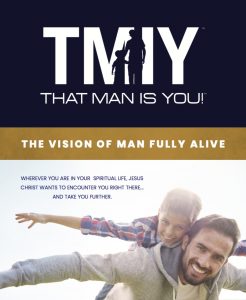 All men are invited to attend THAT MAN IS YOU (TMIY). We began our 3rd year on Wednesday, September 19, 2018. This year we will have a fall and spring session as we have had the past two years, however, it will consist of 9 different speakers. Even if you haven't attended any sessions before, you can jump in now without issue. This year's sessions are called "The Vision of Man Fully Alive".  All sessions will be held on Wednesday mornings beginning at 5:30 AM with breakfast, followed by a video from 6:00-6:30, and then small group discussions from 6:30-7:00. We dismiss at 7:00 AM sharp. We especially welcome and encourage young men to join us, as these speakers guide us to become better Catholic men, husbands, and fathers. You owe it to yourselves and your families to give it a try! Sign up after Mass on the weekends of Sep. 8 & 9 or Sep. 15 &16 or contact the office at 361-5252 or parishoffice@allsaintsberlin.org
PUBLIC SQUARE ROSARY RALLY
You are invited to pray the Rosary as a part of the 2018 Public Square Rosary Crusade. Our nation is in great need of public prayer, repentance and conversion. We ask God to save America through the Rosary of His Most Holy Mother. Join us in praying for our nation on October 13, 2018 at 12:00 noon. The local Public Square Rosary Rally will take place at St. Michael's Cemetery in Berlin (across from Walmart.) Plan to arrive by 11:40 and feel free to bring lawn chairs if you would like. Please contact the parish office for more information.
FERTILITY AWARENESS LEARNING SESSION
Vicki Braun, Family Planning Coordinator for the Madison Diocese, will present a seminar on natural family planning and fertility awareness. This event is free and open to the public. It will take place on Saturday, October 27 from 2:00 – 3:30 PM in the All Saints Parish social hall. Learn the real science behind fertility. We'll discuss the biology of fertility, monitoring cycle health, effectiveness in avoiding pregnancy, and answer your questions. Refreshments will be served.