What's Happening – Upcoming News and Events
Come join us for Soup and Scripture study on Mondays during Lent starting February 19th and ending Monday, March 26th.
This year we will be focusing on A Powerful Study on the Blessed Mother
Filmed on location in the Holy Land, Mary: A Biblical Walk with the Blessed Mother will place you in the midst of the powerful drama of Mary's earthly life, taking you through her joys and her sorrows. You will learn how she works in our lives today, drawing us ever closer to her divine Son. Seeing Mary in this way will change you forever. She will become a part of your daily life and help you to become more like Christ.
Join us at All Saints Parish in Berlin for Soup and Scripture 2018 every Monday in Lent beginning February 19th, (and continuing on the following Mondays, February 19th, 26th, March 5th, 12th, and 19th). Soup will be served at 5:15 and the video will start at 5:30 followed by discussion. For more information or to register for the study, call Jana Dahms at 920-229-3228 or email jdahms@allsaintsberlin.org.

Bring your favorite bread and join us for soup at 5:15pm followed by a short video and discussion, ending around 6:30pm. If you have any questions, contact Jana Dahms at 361-5252.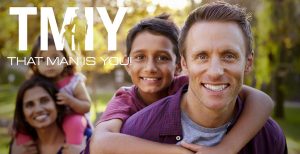 Calling All Saints Men! That Man is You honestly addresses the pressures and temptations that men face in our modern culture, especially those relating to their roles as husbands and fathers. The program harmonizes current social and medical science with the teachings of the Church and the wisdom of the saints to develop the vision of man fully alive!
"This Man is You does a tremendous job of setting…..men on fire with courage and zeal that come from being sons of GOD!"
Sessions are every week on Wednesday @ 5:30am at All Saints Parish Social Hall! #ThatManIsYou
Check it out yourself:
https://www.youtube.com/watch?v=aFwzkKb2SB4
Every Wednesday morning sessions start at 5:30am Sharp with a light breakfast with the sessions/videos startings at 6:00. Sessions end promptly at 7:00am so that you are on your way to start the day.

Love Begins Here 2018 Registration is Now Open! Go to the Love Begins here tab to get the details of dates and complete your child's registration to attend: http://allsaintsberlin.org/love-begins-here-3/