What's Happening – Upcoming News and Events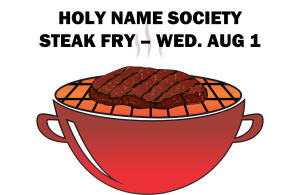 The Holy Name Society of All Saints is sponsoring a steak fry for the men of the parish on Wednesday, Aug. 1. The event takes place at the church. The evening begins at 5:30 for refreshments; bring your own beverage of choice. The grill will be hot and available from 6:30-7:30. The cost of $15 covers the meal of steak, potato, beans, Texas toast and dessert.
Reservations are a must and can be made by dropping off an envelope containing your name and payment in the collections basket or at the parish office. Please come and spend an enjoyable summer evening with other men of the parish.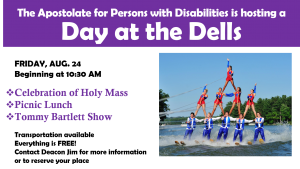 The Apostolate for Persons with Disabilities – Diocese of Madison is hosting the annual Day at the Dells event at the Tommy Bartlett Show in Wisconsin Dells on
Friday, August 24. While this event focuses on including persons with disabilities and those who care for them, everyone is invited to participate. The event includes Mass, a picnic lunch and the famous Tommy Bartlett Ski, Sky, and Stage Show. As was the case last year, motor coach transportation from All Saints Parish will be offered. The motor coach will depart from church around 8:45 AM and return around 4:00 PM. There is no cost for the event or the transportation. If you wish to reserve a spot to attend this event, please contact Deacon Jim or the parish office.