What's Happening – Upcoming News and Events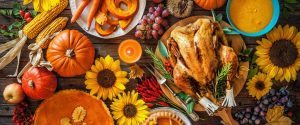 Thanksgiving Dinner
Once again this year we will be serving Thanksgiving Dinner on Thursday, November 23rd in our Parish Hall starting at 12:30pm. We invite anyone who will be spending the day alone to join us for a wonderful dinner and nice time to visit.
Meals will be delivered within the Berlin City Limits and if you'd like transportation to the dinner, please contact Julie at 361-2100 during the day or 361-2562 during evening hours.
Ladies, of our parish, you know Thanksgiving would not be complete without a slice of your delicious pie. We are grateful for those who always help with dessert. Thank you for sharing your time and talent with our parish by helping add the finishing touch to this holiday meal.

Advent by Candlelight
Something new this year. Tuesday, December 5th, an evening for women to gather for spiritual renewal and refocus as we head into the busy Christmas season. We are still in planning stages but the evening will include spiritual time, desserts only that will be provided. We are looking for ladies who might like to host a table, gathering her friends to join her and decorate a table. Call Carol Brennan at 920-361-9065.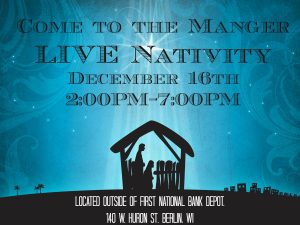 LIVE Nativity
We are truly excited to bring something new to our Catholic Community this Christmas season which we hope will become an annual tradition for years to come. It's our first LIVE Nativity!
Ever set up a nativity and wonder what each of the characters were thinking? We are going to make the Nativity Scene come to Life and we invite you to come participate as this amazing story unfolds with each character from Mary, Joseph, and the Shepard's as they gaze at the newborn child, together in the stable.
We will need Help in Making this LIVE Nativity come to Life. Calling all Youth and Adults within our community that would love to take part and help in a performing part in the LIVE nativity, simple stage help, costumes, and help to construct the manger scene too. If you would LOVE to be part of this exciting experience, please contact Jana Dahms at our All Saints Parish Office (920) 361-5252.

Hospitality Sunday – Please Join us for our next Hospitality Sunday on December 17th after the 10:00am Mass.

Come to the Manger
Once again this year we will be inviting youth of All Saints, grades 1 through 12 to participate in the celebration of the Holy Mass on Christmas Eve, December 24th at 5:30pm, which will be led by Jana Dahms and Sara Clinch. Please contact our Parish Office at 920-361-5252 if your child wishes to participate by singing, reading or playing an instrument.
_______________________________________________________________________